"Whatever your place in the family, you have a place in the story."
---
About six years ago, the late Alexander Fayant Little Bear (1943-2015) introduced me to his family story of being descended from ayimâsîs/Chief Little Bear and mistahi-maskwa/ Chief Big Bear.  I became involved in his search for missing connections with relatives all across western Canada and into Montana, USA.  After Chief Big Bear was taken into custody in July 1885, his son ayimâsîs/Chief Little Bear led a group of his father's followers to safety across the border.  Many family connections were broken as a direct result of Big Bear's followers being scattered in all directions after the 1885 Northwest Rebellion/Resistance.  What happened to mistahi-maskwa/ Chief Big Bear's people?
Indian Status Research 
I have researched family history for individuals seeking Indian status for the past 10 years.  Most of my clients have been from western Canada: Manitoba, Saskatchewan, Alberta, and British Columbia. My searches have led me into libraries, archives, government departments, and First Nation communities. During this exciting new age of online research, I have also found documents important to my searches throughout Canada and all over the world.
I have learned a lot about the Indian Status application and protest process from supporting my clients through the Registrar's requests for further family history documents. Some of my clients had been going through the process for 20 years before I joined their efforts. There is nothing like that email or phone call when we are successful in our joint efforts! Status at last!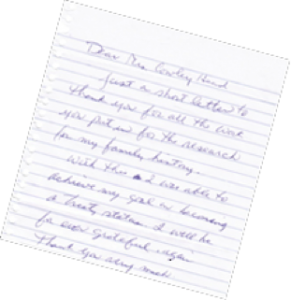 "Dear Mrs. Cowley-Head                                                                                 
Just a short letter to thank you for all the work you put into for the research for my family history.                                                                   
With this I was able to achieve my goal in becoming a treaty status.  I will be forever grateful, again thank you very much."                                                                                                                 
Sincerely, B.A.B.
 A Little About Me

Personal – I am a Swampy Cree woman born and raised in Treaty 5 territory in northern Manitoba. My family members are from Opaskwayak Cree Nation.  Currently, I am residing with my husband and sons in my original Treaty 5 territory in The Pas, Manitoba. My passions are picking, thoroughbred horses, Texas holdem poker, and genealogy.  It is not surprising that each passion is all about the thrill of the hunt!
Education and Work Experience – After I attained my high school diploma, I left for college in Saskatchewan and completed two undergraduate degrees: B.A. in Indian [Indigenous] Studies and a Bachelor of Education after Degree.  I worked in curriculum development for First Nation education systems for almost ten years. I returned to post-secondary studies in Saskatchewan and completed a Juris Doctor and Master of Laws by 2003.  My master's thesis was entitled "Protecting Indigenous Knowledge under International Law."  (https://ecommons.usask.ca/handle/10388/etd-12092008-110543).  I was the second First Nations woman to defend her master's thesis at the University of Saskatchewan College of Law.  (http://law.usask.ca/programs/master-of-laws-degree/Graduate-Student-Defended-Theses.php)
I started my research services in 1998, offering curriculum development and research services to First Nation governments, First Nation education institutions, Provincial governments, post-secondary institutions and lawyers in Saskatchewan and Manitoba.  I have owned and operated my research services for 18 years as a sole proprietor.
---
Save
Save
Save
Save
Save
Save
Save
Save
Save
Save
Save
Save
Save
Save
Save
Save
Save
Save
Save
Save
Save