---
I am a Swampy Cree woman from Opaskwayak Cree Nation who has recently returned to my home territory, residing in The Pas, MB.  I have been hired by various law firms and organizations as a First Nations genealogist for 10 years now.  I have assisted in family history research for specific claims.  I have also researched family history for individuals seeking Indian status for the past decade.  My educational background is indigenous studies, education, and law.
Most of my clients have been from western Canada: Manitoba, Saskatchewan, Alberta, and British Columbia. I have learned a lot about the Indian Status application and protest process from supporting my clients through the Registrar's requests for further family history documents. Some of my clients had been going through the process for 20 years before I joined their efforts.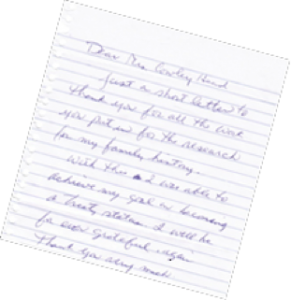 "Dear Mrs. Cowley-Head                                                                                 
Just a short letter to thank you for all the work you put into for the research for my family history.                                                                   
With this I was able to achieve my goal in becoming a treaty status.  I will be forever grateful, again thank you very much."                                                                                                                 
Sincerely, B.A.B.
If you or a friend or relative is seeking family history research support for their Indian status application, please contact me and I will see if I can be of help in your search.  You can find BCH Research Services on facebook, you can visit my website www.bchresearch.ca, you can email me at blanche@bchresearch.ca or call or text me at (204) 620-2358.
Save
Save
Save
Save
Save
Save
Save
Save
Save