INTERNATIONAL WOMEN'S DAY – HONORING SHARON VENNE (OLD WOMAN BEAR)
I woke up thinking about who I wanted to honor today and my old friend a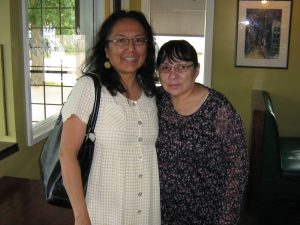 nd mentor SHARON VENNE came to mind.
I met Sharon when I was in my first few years of law school in the early 1990's. She came along at a critical point for me because I remember I was sitting there in law school wondering, "What am I doing here?" after I started learning the curriculum of law school. She blew into my life, my mind and my spirit like a breath of fresh air in that stuffy building. Sharon is a Nehiyaw woman from Treaty 6 territory and has spent her adult years lobbying for indigenous rights both in Canada and internationally.
She is a blunt woman with a vision and passion for protecting indigenous knowledge and treaty rights. I didn't know what to make of her when I first met her because everything she had to say challenged so many ideas I held about so many things. She was often uncomfortable to be around in terms of ideas, but unconditionally kind in her personal relationship with me.
Sharon has led the way and inspired me with what to do with my legal education. She was one of my first clients when I first started up my research service business in 1998. She recruited me to be the lead researcher in a hunting case she was involved with in Saskatchewan. The lawyer was an indigenous woman named Eileen Saskamoose and Sharon was the expert witness. Sharon said, "You know, we're making history with this case and most people will never know it. This is the first case in Canada where the lead counsel, expert witness and lead researcher are all indigenous women." Sharon has a way of inspiring you to grab your courage with both hands and take risks. She does it every day.